Exit Strategies for Business Owners Ready to Sell or Retire
---
July 7, 2023
Exit Strategies for Business Owners Ready to Sell or Retire
July 7, 2023
As a business owner, you have poured your heart, soul, time, and resources into your enterprise to ensure its growth and success over the years. But the day will inevitably come when you will need to consider stepping back, whether it is due to retirement, pursuing another opportunity, or simply wishing to enjoy the fruits of your labor. When that time arrives, having a well-thought-out exit strategy and careful planning are crucial. This article will guide you through various exit strategies and help you understand how to plan for the transition when you are ready to sell or retire.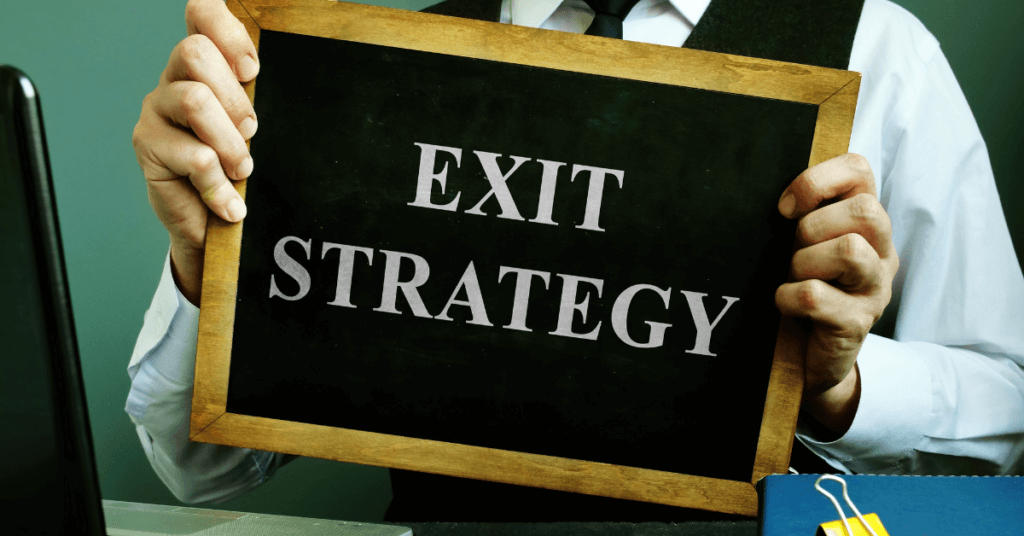 Start Planning Early
The key to a successful business exit strategy is to start planning well in advance. Ideally, you should begin considering your exit options several years before your intended retirement date. This allows you to make necessary adjustments and train people who will be taking over the business when you leave. In fact, according to Kiplinger, it can take anywhere from six months to five years to sell a business. By developing your exit plan early, you will have a more favorable chance of getting a better sales price in the end.
One of the biggest aspects of planning early is preparing your financial records. Having the following records will help you have a better understanding of your business's value:
Business plans
Employment records
Licenses and certifications
Leasing agreements
Human resources records
Governance records
Accounting records
Set Your Goals and Priorities
Before finalizing your strategy, it is important to identify your personal goals and priorities. Do you want to sell your business, transfer it to family members, or consider other options like a management buyout or employee stock ownership plan? By clearly defining your goals, it will be easier to find an exit strategy that suits your needs.
Weigh Your Options for Selling
Leaving your business to new ownership can be hard for those who have poured everything into their career for years and years. That is why it is crucial to weigh the many options that are available when it comes to selling your business. Here are some to consider:
Family Succession Plan
Succession planning is a commonly chosen path for business owners, especially those who have built a family-owned enterprise. This strategy involves identifying and developing new leaders within your company who can replace old leaders when they leave, retire, or pass away. In family-owned businesses, successors are often children or other family members.
If you have a family member who is interested in taking over the business, a succession plan can be a viable option. If this is the route that interests you the most, it is imperative to prepare the next generation of leaders for your business, ensuring a smooth transition and preserving the legacy of what you have worked hard to build. It requires careful training and coaching of the successor to ensure they are ready to take the helm. Owners should focus on mentorship, skills development, and gradual delegation of responsibilities. A key challenge is to maintain family harmony during the process, especially when several potential successors are involved.
Selling the Business Outright
Selling your business to an external party, either to another individual or business (often a competitor or a company looking to expand its portfolio) or a private equity firm, can provide the opportunity to gain a significant amount of cash to put toward your retirement. Buyers can include individuals, competitors, private equity firms, or even someone you know. If you are thinking about selling, be sure to seek the assistance of business brokers or financial professionals to help you find potential buyers, price your business properly, and negotiate favorable terms.
This option often leads to a larger payout than other exit strategies, as strategic buyers are often willing to pay a premium for businesses that add value to their existing operations. However, it can be a lengthy and complex process, often involving intermediaries, such as investment banks or business brokers. It is essential to consider the potential impact on employees and your existing company culture when selling to a third party.
Management Buyout (MBO)
Another option for selling your business is opting to sell your business to your existing management team, also known as a management buyout. This allows for continuity because it involves individuals who are already familiar with the company's operations, procedures, clients, and goals. It may also provide financial benefits to key employees who have demonstrated their commitment to the company. If you are concerned about the legacy of your business, then leaving it in the hands of someone who learned directly from you may be a desirable option.
However, financing can be a significant hurdle in an MBO. The management team might need to seek financial assistance from banks, private equity investors, or other financial institutions. Detailed business plans and financial projections will be required, making the process potentially complex.
Employee Stock Ownership Plan (ESOP)
An ESOP enables employees to purchase shares of the company, gradually transferring ownership to them. This option can create a sense of loyalty, provide tax advantages, maintain company culture, and ensure the continuity of the business.
There are, however, complexities involved with ESOPs, including their setup and administration, and the need for regular company valuations. Also, not all employees may wish or can afford to buy in, and some might be wary of the risks involved in owning company stock.
Mergers and Partnerships
This strategy involves combining forces with another company through a merger or partnership. Through this method, business owners can access additional resources, expand their market reach, and increase their business's value. This is a great option for those who want to gradually transition out of the company.
Liquidation
If other strategies are not viable, liquidation is always an option. Liquidating a business involves selling off its assets, paying off debts, and winding down operations. While this is often a last-resort option and usually the least profitable option, liquidation can provide a way for the business owner to exit while still getting a paycheck.
Seek Professional Advice
Retirement planning and business exit strategies can be complex. Engaging the services of professionals, such as lawyers and financial professionals who specialize in business succession, can provide valuable guidance, and help ensure you are protected.
Prep Your Business for Sale
Regardless of the exit strategy that you choose, it is essential to prepare your business to sell. Enhance your business's value by focusing on areas like financial records, operational processes, and intellectual property protection. By having these areas covered, you can help make your business more attractive to potential buyers. Here are a few points to consider:
Valuation: Engage professionals to provide a realistic and objective valuation of your business. It can form a basis for negotiation and decision-making.
Documentation: Ensure all financial records, legal documents, contracts, and operational procedures are up-to-date and organized. This transparency increases buyer confidence.
Legal Advice: Retain experienced legal counsel to guide you through the complexities of exit transactions, ensuring your interests are protected.
Financial Planning: Engage a financial advisor to ensure you plan appropriately for the tax implications of your exit strategy, and the management of your proceeds to support your retirement or future ventures.
Develop a Transition Plan
Successful exit strategies for business owners ready for retirement should include a well-structured transition plan. This allows for smoothly handing over your business to a new buyer or successor. When creating your transition plan, be certain to include plans for knowledge transfer, mentoring and training, and a clearly defined timeline for your retirement departure.
Exiting your business is as significant a step as starting it. The key to a successful transition lies in early and thoughtful planning. It is never too soon to start thinking about your exit strategy, and the process should ideally begin several years before you plan to step down. Remember, the key to an exit strategy that works is careful consideration, thorough planning, and proactive execution. By considering the options and preparing accordingly, you can ensure a legacy that lives on after your departure, safeguarding your employees' future and securing your financial retirement. Your business has been your passion, and with careful planning, its handover does not have to be a hurdle, but the next logical step in your business journey.
We highly recommend employing a lawyer, financial professional, and tax professional when selling your business, especially if you are selling for a substantial sum. They can help you ensure you have the proper documents and protections in place, have a tax-efficient strategy for the proceeds from the sale, and a plan for the funds after. If you need help while you work on your exit strategy, be sure to contact our team here.
Written in collaboration with artificial intelligence (ChatGPT). Reviewed and edited by humans.
---
Standard Disclosure
This blog expresses the author's views as of the date indicated, are subject to change without notice, and may not be updated. The information contained within is believed to be from reliable sources. However, its accurateness, completeness, and the opinions based thereon by the author are not guaranteed – no responsibility is assumed for omissions or errors.  This blog aims to expose you to ideas and financial vehicles that may help you work towards your financial goals. No promises or guarantees are made that you will accomplish such goals.
Past performance is no guarantee of future results, and any expected returns or hypothetical projections may not reflect actual future performance or outcomes. All investments involve risk and may lose money. Nothing in this document should be construed as investment, tax, financial, accounting, or legal advice. Each prospective investor must evaluate and investigate any investments considered or any investment strategies or recommendations described herein (including the risks and merits thereof), seek professional advice for their particular circumstances, and inform themselves about the tax or other consequences of any investments or services considered.
Investment advisory services are offered through Liberty Wealth Management, LLC ("LWM"), DBA Liberty Group, an SEC-registered investment adviser.  For additional information on LWM or its investment professionals, please visit www.adviserinfo.sec.gov  or contact us directly at 411 30th Street, 2nd Floor, Oakland, CA  94609, T: 510-658-1880, F: 510-658-1886,  www.libertygroupllc.com. Registration with the U.S. Securities and Exchange Commission or any state securities authority does not imply a certain level of skill or training.
---
References
Fort Pitt Capital Group. (January 23, 2023). How to Create an Exit Plan for Your Business. Fort Pitt Capital Group. https://www.fortpittcapital.com/blog/how-to-create-an-exit-plan-for-your-business/
Ganti, Akhilesh. (March 15, 2023). Employee Stock Ownership Plan (ESOP): What It Is, How It Works, Advantages. Investopedia. https://www.investopedia.com/terms/e/esop.asp
Medina, Jacqueline. (November 18, 2021). Ready to Move On? How to Create an Exit Plan for Your Business. U.S. Chamber of Commerce. https://www.uschamber.com/co/start/strategy/business-exit-plan
Stewart, Jackie. (June 23, 2021). Business Owners Need an Exit Strategy When They Are Ready to Retire. Kiplinger. https://www.kiplinger.com/business/small-business/603024/business-owners-need-an-exit-strategy
Western Governors University. (December 22, 2021). A Guide to Management Buyouts (MBO) | WGU. Western Governors University. https://www.wgu.edu/blog/management-buyout-model2112.html