Deciding on a Northern California Retirement: Exploring Our Two Top Destinations
---
November 3, 2023
Deciding on a Northern California Retirement: Exploring Our Two Top Destinations
November 3, 2023
California, often renowned for its beautiful beaches, tech hubs, and Hollywood glamour, is also a promising destination for retirees. From the serenity of wine country to the hustle and bustle of a thriving capital city, Northern California presents a variety of landscapes and lifestyles. Whether you're dreaming of sunsets over vineyards or a vibrant urban experience, this region caters to diverse retirement fantasies.
In this blog post, we'll journey through two of Northern California's most appealing retirement destinations: elegant Napa Valley and the lively city of Sacramento. Both offer unique charms and amenities that can make the golden years truly shine.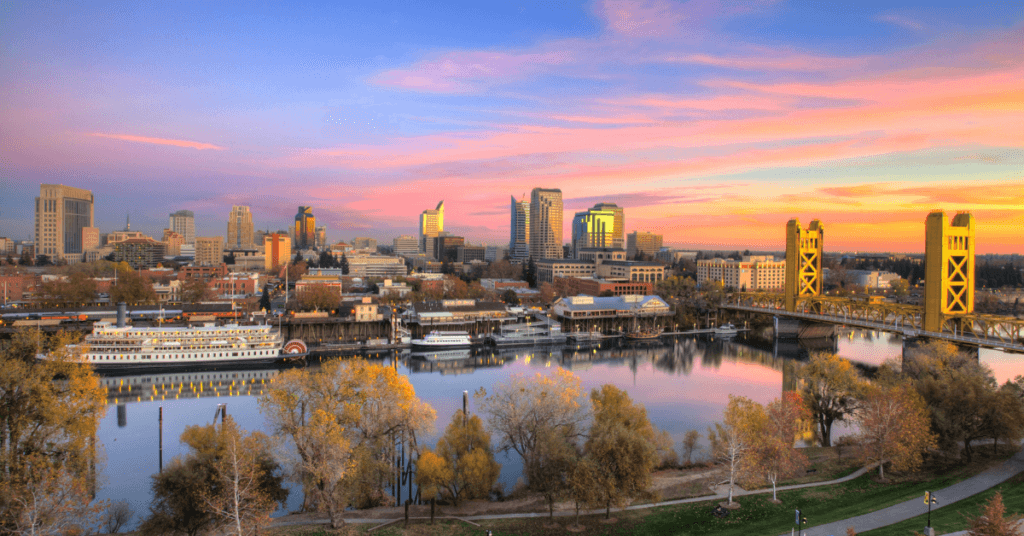 1. Napa Valley: The Wine Lover's Paradise
Known for its world-renowned vineyards and culinary scene, Napa Valley is perfect for those who appreciate fine dining and wine tasting. Retirement communities here are often surrounded by picturesque landscapes, offering a unique blend of nature and sophistication.
Nestled in the heart of California's wine country, Napa Valley offers an unparalleled experience for those who have a penchant for fine wine, gourmet dining, and scenic beauty. For retirees who want to embrace a lifestyle imbued with elegance, relaxation, and indulgence, Napa Valley is a true paradise. Let's explore why this region might be your dream retirement destination.
World-Renowned Vineyards
Napa Valley is synonymous with exquisite wine. With over 400 wineries, retirees can indulge in wine tours, tastings, and vineyard walks, surrounded by picturesque landscapes. Whether you're a seasoned connoisseur or a casual wine enthusiast, the region's famed wineries and cellars offer something for everyone.
Gourmet Culinary Experience
In Napa Valley, fine wine is complemented by a rich culinary scene. From Michelin-starred restaurants to quaint local bistros, the area serves up a feast for the senses. Cooking classes and food festivals also provide opportunities to immerse yourself in the gastronomic culture of the valley.
Scenic Beauty and Outdoor Activities
The lush rolling hills, vibrant vineyards, and sparkling rivers of Napa Valley offer breathtaking vistas. Retirees can enjoy outdoor activities like hiking, biking, or hot air ballooning, all while soaking in the natural beauty of the region.
Luxury and Comfort
Retirement communities in Napa Valley offer top-notch amenities and services. From luxurious spas to golf courses and fitness centers, the focus on quality living ensures a comfortable and pleasurable retirement experience.
Art and Culture
Napa Valley's rich cultural scene includes art galleries, theaters, and live music venues. Events like the Napa Valley Film Festival provide an opportunity to engage with the artistic community and enjoy a vibrant cultural life.
Health and Wellness
Health and wellness are a priority in Napa Valley. With state-of-the-art healthcare facilities and various wellness retreats, retirees can embrace a lifestyle focused on physical and mental well-being.
Proximity to the Bay Area
Just an hour's drive away from cities like San Francisco, retirees in Napa can easily access the cultural richness, entertainment venues, renowned shopping districts, and coastal beauty of the Bay Area. This closeness also means that family and friends residing in or visiting the bustling cities nearby are just a short trip away, facilitating frequent gatherings and connections. Additionally, the Bay Area hosts various medical specialists and advanced healthcare facilities, ensuring that Napa retirees have the best of both worlds—tranquility in the valley and vineyards and the amenities of the city at their fingertips.
Retiring in Napa Valley means stepping into a wine lover's paradise where luxury, culinary delights, and scenic beauty blend seamlessly. It's a place where each day can be savored like a fine glass of wine, with endless opportunities to explore, relax, and indulge. If you envision your retirement years filled with the aroma of fine wine, the taste of gourmet meals, and the sight of stunning landscapes, Napa Valley could be the perfect destination for you. Consider exploring this beautiful region and discover the elegance and charm that make it one of California's most sought-after retirement spots.
2. Sacramento: The Vibrant Capital
For those who prefer a more urban setting in Northern California—but without city prices like in San Francisco and other large hubs—Sacramento offers a mix of history, culture, and modernity. With affordable living costs, excellent healthcare facilities, and various recreational activities, it's a great city for retirees seeking convenience and entertainment.
Situated at the confluence of the Sacramento and American Rivers, Sacramento, California's state capital, offers an appealing mix of urban excitement and suburban tranquility. Its rich history, vibrant arts scene, diverse culinary offerings, and ample recreational opportunities make it an ideal location for retirees. Here's why Sacramento might be the perfect spot for your retirement years.
Cultural Richness
Sacramento is a city that celebrates its history and culture. The Old Sacramento Waterfront District takes you back in time with its preserved historical buildings, while museums like the Crocker Art Museum and the California State Railroad Museum offer captivating glimpses into art and history. The city's theaters and music venues also provide a lively cultural experience.
Recreational Opportunities
With over 200 parks, Sacramento is known as the "City of Trees," offering retirees numerous opportunities for outdoor activities. From biking along the American River Bike Trail to fishing or picnicking at William Land Park, the city's natural landscapes are a playground for outdoor enthusiasts.
Farm-to-Fork Dining
Sacramento takes pride in its title as America's Farm-to-Fork Capital. The city's diverse culinary scene is defined by fresh, locally sourced ingredients. From farmers' markets to gourmet restaurants, food lovers can savor authentic farm-fresh flavors.
Diverse Neighborhoods
From the upscale East Sacramento to the hip Midtown area, Sacramento offers a variety of neighborhoods catering to different lifestyles and budgets. Retirees can choose from urban apartments, suburban homes, or retirement communities tailored to their specific needs and preferences.
Accessible Healthcare
The city's extensive network of healthcare facilities ensures that retirees have easy access to quality medical care. Hospitals like UC Davis Medical Center provide cutting-edge medical services, ensuring peace of mind for residents.
Proximity to Other Destinations
Sacramento's central location provides convenient access to various Californian landmarks. Whether you fancy a weekend in San Francisco or a trip to the nearby Sierra Nevada mountains, the city's prime location offers endless opportunities for exploration.
Retiring in Sacramento means embracing a vibrant and diverse lifestyle. From indulging in cultural experiences and outdoor adventures to enjoying farm-fresh dining and exploring diverse neighborhoods, Sacramento offers a rich and fulfilling retirement experience. If you're looking for a place that combines urban energy with suburban comfort, where every day presents a new opportunity to explore and enjoy life, Sacramento, the vibrant capital, could be your ideal retirement destination.
Conclusion
Northern California offers a spectrum of experiences for those looking to make the most of their retirement years. Napa Valley, with its intoxicating blend of wine, luxury, and natural beauty, offers a retirement soaked in elegance and tranquility. On the other hand, Sacramento, with its pulsating heart of culture, history, and urban modernity, can provide a dynamic and fulfilling retirement life. As you ponder your retirement plans, remember that in Northern California, you're not just choosing a place to live; you're choosing a lifestyle. Whether you lean towards the vineyards or the city, your ideal retirement awaits in this diverse and captivating region.
Want to get started with your retirement planning? Contact us here.
Written in collaboration with artificial intelligence (ChatGPT). Reviewed and edited by humans.
---
Standard Disclosure
This blog expresses the author's views as of the date indicated, are subject to change without notice, and may not be updated. The information contained within is believed to be from reliable sources. However, its accurateness, completeness, and the opinions based thereon by the author are not guaranteed – no responsibility is assumed for omissions or errors.  This blog aims to expose you to ideas and financial vehicles that may help you work towards your financial goals. No promises or guarantees are made that you will accomplish such goals.
Past performance is no guarantee of future results, and any expected returns or hypothetical projections may not reflect actual future performance or outcomes. All investments involve risk and may lose money. Nothing in this document should be construed as investment, tax, financial, accounting, or legal advice. Each prospective investor must evaluate and investigate any investments considered or any investment strategies or recommendations described herein (including the risks and merits thereof), seek professional advice for their particular circumstances, and inform themselves about the tax or other consequences of any investments or services considered.
Investment advisory services are offered through Liberty Wealth Management, LLC ("LWM"), DBA Liberty Group, an SEC-registered investment adviser.  For additional information on LWM or its investment professionals, please visit www.adviserinfo.sec.gov  or contact us directly at 411 30th Street, 2nd Floor, Oakland, CA  94609, T: 510-658-1880, F: 510-658-1886,  www.libertygroupllc.com. Registration with the U.S. Securities and Exchange Commission or any state securities authority does not imply a certain level of skill or training.