Find Your Perfect Sunset: Comparing Our Top Picks for Southern California Retirement Destinations
---
November 10, 2023
Find Your Perfect Sunset: Comparing Our Top Picks for Southern California Retirement Destinations
November 10, 2023
Ah, Southern California—where the sun melds into the Pacific, palm trees line the streets like guardians of paradise, and the soundtrack of waves crashing provides the rhythm of life. For many, it's the dream locale for leisure and relaxation during the golden years of retirement. But what does it really mean to retire in this West Coast haven?
From the scenic beauty of coastal towns to the myriad cultural activities in buzzing urban centers, this blog delves deep into the heart of SoCal living for those ready to hang up their work boots. Whether you're drawn by the climate, the culture, or the call of the ocean, Southern California offers a uniquely attractive prospect for retirees. Read along as we journey through the ins and outs of retiring in this vibrant region, shedding light on housing, healthcare, activities, and the countless joys waiting just beneath the sun. Here are some of our top locations to retire in Southern California.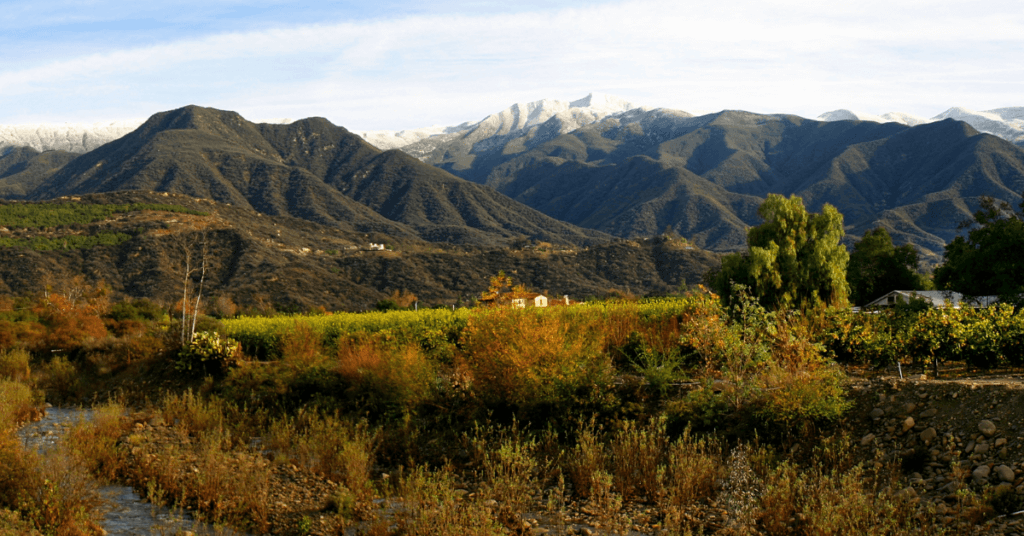 1. San Diego: The Coastal Haven
San Diego, often referred to as America's Finest City, has a reputation as one of the most enticing places to retire. With its year-round sunny weather, breathtaking coastal landscapes, overall relaxed lifestyle, and myriad of recreational activities, it has become a coastal haven for retirees seeking a life of relaxation and enjoyment. Retirees can enjoy world-class golf courses, a wide range of dining options, and numerous cultural attractions like museums and theaters.
Unmatched Climate
San Diego boasts a nearly perfect climate, with mild winters and warm summers, allowing for outdoor activities all year long. The city's average temperature of 70 degrees ensures that whether you're a golfer, a beachcomber, or simply someone who loves a leisurely walk in the park, the weather will rarely stand in your way.
Beaches and Recreation
With over 70 miles of stunning coastline, San Diego offers a beach for every personality. From the bustling Mission Beach to the serene Coronado Beach, there's a spot for sunbathing, surfing, or simply taking in the beautiful ocean views. Numerous parks and golf courses add to the city's appeal, providing ample opportunities for outdoor fun and exercise.
Cultural Attractions
San Diego is not only about the outdoors. The city is rich in culture, with museums like the San Diego Museum of Art and the USS Midway Museum, theaters, music venues, and a vibrant culinary scene. The famous San Diego Zoo and Balboa Park provide both entertainment and education for those looking to explore nature and wildlife.
Healthcare and Community
For retirees, access to healthcare is crucial, and San Diego delivers with highly rated medical facilities. Various retirement communities in the area offer a range of living options, from independent living to assisted care, all within close proximity to the healthcare you may need.
Affordable Living Options
While California can be expensive, San Diego offers various neighborhoods with different price points. Working with a local real estate agent can help you find the perfect home that fits your budget and lifestyle needs.
San Diego truly is a coastal haven for retirees. Its unique blend of natural beauty, recreational opportunities, cultural attractions, and community support make it a top choice for those seeking a fulfilling and enjoyable retirement life. If you've ever dreamed of retiring near the ocean, with a rich array of activities and amenities at your doorstep, San Diego might be the place for you.
2. Palm Springs: The Desert Oasis
Palm Springs has long been a favorite among retirees due to its stunning desert landscapes and natural hot springs. With far more days with sunshine than without each year and a plethora of outdoor activities, this area offers an active and healthy lifestyle for seniors.
Nestled in the Coachella Valley, Palm Springs is a desert oasis that has become a popular retirement destination. Known for its stunning desert landscapes, luxurious spas, world-class golf courses, and vibrant art scene, Palm Springs offers a unique and enticing environment for retirees. Here's what makes this city a dream spot for retirement.
Glorious Sunshine
Palm Springs is renowned for its sunny weather, boasting over 350 days of sunshine each year. This consistent weather pattern allows for a plethora of outdoor activities, from hiking to tennis, ensuring that every day can be filled with fun and adventure.
Golfers' Paradise
If golf is your passion, Palm Springs is the place to be. Home to more than 100 golf courses within a 20-mile radius of the city, many of which are designed by famous architects, this desert city offers a range of playing experiences for both novice and expert golfers.
Health and Wellness Focus
Palm Springs offers a wide variety of wellness options, from natural hot springs to luxurious spas. The city's focus on health and well-being is visible in its yoga studios, fitness centers, and wellness retreats, providing opportunities for relaxation, rejuvenation, and self-care.
Cultural Attractions
Art and culture thrive in Palm Springs. With a variety of museums, art galleries, theaters, and musical venues, there is always something to explore. The Palm Springs Art Museum and the annual Palm Springs International Film Festival are just a few highlights that enrich the local cultural landscape.
Housing and Communities
Retirement communities in Palm Springs offer various living arrangements and amenities to cater to different needs and preferences. Whether you want an active adult community with a range of activities or a quiet neighborhood with beautiful desert views, you'll find something that fits your lifestyle.
Retiring in Palm Springs means embracing a life filled with sunshine, outdoor activities, cultural enrichment, and a strong focus on wellness. It's a place where you can enjoy the beauty of the desert, stay active, and cultivate a vibrant social life. If you are looking for a desert oasis where you can relax and stay engaged in retirement, Palm Springs might be your ideal destination. Consider visiting this beautiful city to see firsthand what it has to offer, and you might find yourself planning your retirement in this desert paradise.
3. Laguna Beach: The Coastal Gem
Laguna Beach is famed for its breathtaking coastal views, art galleries, and outdoor activities. Retirees can enjoy beachside living with all the amenities of a larger city, making it a prime location for relaxation and recreation.
With its breathtaking ocean views, artistic heritage, and upscale charm, Laguna Beach is a coastal gem in Orange County, California, that has long drawn retirees in search of a picturesque and luxurious haven. From stunning beaches to a thriving arts community, Laguna Beach offers a rich and fulfilling lifestyle for those ready to embrace their golden years. Here's a glimpse into what makes this coastal town a dream retirement destination.
Scenic Coastal Beauty
Laguna Beach boasts some of California's most beautiful coastlines. The town's array of beaches, coves, and cliffs provides endless opportunities for beachcombing, surfing, or simply enjoying the sunset. Whether it's strolling along Main Beach or exploring the tide pools at Crystal Cove State Park, the ocean's allure is ever-present.
Artistic and Cultural Enclave
Known for its artistic spirit, Laguna Beach is home to numerous art galleries, studios, and festivals like the famous Pageant of the Masters. Retirees can immerse themselves in the local art scene, participating in art walks and exploring the Laguna Art Museum.
Sophisticated Dining and Shopping
Laguna Beach offers an exquisite culinary experience, with restaurants serving fresh seafood and gourmet cuisine that cater to sophisticated tastes. The downtown area's boutique shops and galleries provide delightful shopping experiences, reflecting the town's upscale and artistic character.
Outdoor Activities and Wellness
Beyond the beach, Laguna Beach provides a plethora of outdoor activities, from hiking trails with ocean views to marine wildlife tours. Many local wellness centers offer yoga, meditation, and spa treatments, supporting a holistic approach to well-being in retirement.
Tight-Knit Community
Despite its international reputation as a luxury travel destination, Laguna Beach retains a close-knit community vibe. Various clubs, community centers, and events provide opportunities for socializing, fostering connections among residents.
High-Quality Healthcare
Proximity to top-notch medical facilities ensures that retirees have access to comprehensive healthcare services. Leading healthcare providers in the area contribute to the peace of mind and overall quality of life.
A Variety of Housing Options
From oceanfront properties to cozy hillside cottages, Laguna Beach offers diverse housing options to suit different preferences and budgets. Various retirement communities also cater specifically to the needs and lifestyles of retirees.
Retiring in Laguna Beach means embracing a life where coastal elegance meets artistic flair. Its blend of natural beauty, cultural richness, community connection, and luxurious living creates a truly unique and fulfilling retirement experience. If you're seeking a coastal gem that offers a blend of scenic beauty, artistic culture, and upscale living, Laguna Beach could be the idyllic location for your retirement years.
4. Santa Barbara: The Mediterranean Retreat
With its Mediterranean climate and upscale charm, Santa Barbara provides retirees with an elegant and serene environment. The city offers a rich cultural scene, wineries, and beautiful parks that make it a popular choice for relaxation and leisure.
Often described as the "American Riviera," Santa Barbara captures the essence of a Mediterranean paradise with its coastal mountains, palm-lined boulevards, historic architecture, and elegant charm. For retirees seeking a combination of culture, natural beauty, and relaxed living, Santa Barbara presents itself as an idyllic retreat. Here's why this city may be the perfect choice for your golden years.
Captivating Coastal Beauty
The city's stunning coastal views, beautiful beaches, and pleasant climate offer a soothing backdrop for retirement. Whether you love to sail, sunbathe, or take long walks by the sea, Santa Barbara's natural beauty invites endless exploration.
Rich Cultural Heritage
Santa Barbara is a hub for arts and culture. From the historic Old Mission Santa Barbara to art galleries, theaters, and music festivals, the city is teeming with cultural richness. Explore the Santa Barbara Museum of Art or catch a performance at the Granada Theatre for a fulfilling artistic experience.
Vineyards and Culinary Delights
Wine lovers will feel right at home in Santa Barbara, with the renowned wine country just a short drive away. Enjoy wine tasting tours and savor local culinary delights in gourmet restaurants. The city's dining scene offers a fusion of flavors that cater to every palate.
Outdoor Activities and Wellness
With a landscape ranging from beaches to mountains, Santa Barbara offers various outdoor activities, including hiking, biking, and fishing. Many retirees also enjoy yoga, meditation, and spa treatments, reflecting the city's focus on wellness and healthy living.
Luxurious yet Community-Oriented Living
Santa Barbara offers luxurious living without losing a sense of community. The city hosts numerous community events and farmers' markets, fostering a connected and friendly environment. There are also various housing options tailored to different preferences and budgets.
Retiring in Santa Barbara is like embracing a Mediterranean lifestyle right in the heart of California. Its blend of coastal beauty, cultural richness, gourmet dining, outdoor activities, and community-oriented living makes it an ideal destination for those seeking a sophisticated yet relaxed retirement. If the idea of living in a Mediterranean retreat with all the amenities and charms of a vibrant city appeals to you, Santa Barbara might be your dream retirement location. A visit to this picturesque city could be the first step toward a rewarding and enjoyable retirement.
5. Ojai: The Spiritual Haven
Ojai is a small town that offers a peaceful and spiritual environment. With its yoga retreats, organic farms, and wellness centers, it's a top choice for retirees seeking a mindful and holistic approach to life.
Tucked away in a scenic valley surrounded by lush hills and mountains, Ojai, California, has long been celebrated as a sanctuary for spiritual seekers and nature lovers alike. This tranquil town, known as the "Shangri-La of Southern California," offers a unique environment for retirees in search of a soulful and rejuvenating lifestyle. Here's what makes Ojai a spiritual haven for retirement.
Spiritual and Healing Practices
Ojai is a hub for spiritual growth and healing. Various retreat centers, yoga studios, meditation gardens, and wellness spas offer an array of programs and treatments designed to nourish the body, mind, and soul. Retirees can immerse themselves in holistic practices, making Ojai a true spiritual oasis.
Connection with Nature
Nestled within a valley known for its magical "pink moment" sunsets, Ojai invites retirees to connect with nature's beauty. Hiking trails, botanical gardens, and outdoor farmers' markets provide ample opportunities to appreciate the outdoors and cultivate a sense of serenity.
Artistic and Cultural Community
Ojai's vibrant artistic community is reflected in its galleries, music festivals, and local theater productions. The annual Ojai Music Festival is a highlight, offering an eclectic mix of performances that cater to various musical tastes. This cultural richness enhances the town's soulful ambiance.
Health-Focused Lifestyle
With a strong emphasis on organic farming and healthful living, Ojai's culinary scene offers fresh, farm-to-table dining experiences. Health food stores and wellness workshops further support a lifestyle that prioritizes well-being and sustainability.
Intimate and Friendly Atmosphere
Ojai's small-town charm fosters a close-knit community. Friendly locals, communal gatherings, and neighborhood boutiques create a sense of belonging. This intimate atmosphere makes it easy for retirees to form meaningful connections and feel at home.
Easy Access to Nearby Destinations
Ojai's location provides convenient access to nearby coastal towns like Ventura and Santa Barbara. Day trips to the beach or neighboring attractions add diversity to the leisure options available to retirees.
Retiring in Ojai is an invitation to a journey of self-discovery, relaxation, and community connection. Its spiritual essence, connection with nature, cultural vibrancy, health-focused lifestyle, and friendly atmosphere make it an ideal haven for those seeking a fulfilling and soul-nourishing retirement experience. If you're drawn to a place where the pace of life invites reflection, creativity, and inner peace, Ojai might be the spiritual haven you've been searching for in your retirement years.
Conclusion
Southern California's vast expanse holds a tapestry of retirement destinations, each with its distinct charm and appeal. From San Diego's coastal allure to Palm Springs' desert landscape and Laguna Beach's artistic vibrancy, the options are as diverse as they are captivating. Each location offers a unique set of amenities, from top-notch healthcare and housing options to cultural attractions and outdoor adventures. But beyond these tangible aspects, there's an inherent spirit of relaxation, rejuvenation, and discovery that makes Southern California a dream retirement locale. Whether you're seeking the rhythmic lull of the ocean, the serene vistas of the desert, or the cultural heartbeat of artistic enclaves, the Golden State holds the potential for your golden years to be filled with memories, experiences, and sunsets that'll etch their beauty onto the canvas of your heart. Choose your perfect sunset and embrace the next exciting chapter of life in Southern California.
Need help planning your retirement? Our team is here for you—contact us today.
Written in collaboration with artificial intelligence (ChatGPT). Reviewed and edited by humans.
---
Standard Disclosure
This blog expresses the author's views as of the date indicated, are subject to change without notice, and may not be updated. The information contained within is believed to be from reliable sources. However, its accurateness, completeness, and the opinions based thereon by the author are not guaranteed – no responsibility is assumed for omissions or errors.  This blog aims to expose you to ideas and financial vehicles that may help you work towards your financial goals. No promises or guarantees are made that you will accomplish such goals.
Past performance is no guarantee of future results, and any expected returns or hypothetical projections may not reflect actual future performance or outcomes. All investments involve risk and may lose money. Nothing in this document should be construed as investment, tax, financial, accounting, or legal advice. Each prospective investor must evaluate and investigate any investments considered or any investment strategies or recommendations described herein (including the risks and merits thereof), seek professional advice for their particular circumstances, and inform themselves about the tax or other consequences of any investments or services considered.
Investment advisory services are offered through Liberty Wealth Management, LLC ("LWM"), DBA Liberty Group, an SEC-registered investment adviser.  For additional information on LWM or its investment professionals, please visit www.adviserinfo.sec.gov  or contact us directly at 411 30th Street, 2nd Floor, Oakland, CA  94609, T: 510-658-1880, F: 510-658-1886,  www.libertygroupllc.com. Registration with the U.S. Securities and Exchange Commission or any state securities authority does not imply a certain level of skill or training.
References
https://www.golflink.com/golf-courses/ca/palm-springs/#:~:text=Palm%20Springs%2C%20California%20Golf%20Courses%20and%20Tee%20Times&text=There%20are%209%20golf%20courses,municipal%20and%2049%20private%20courses.